The Arabian Peninsula Partnership
The Gospel for every person and a church for every people in the Arabian Peninsula amongst indigenous peoples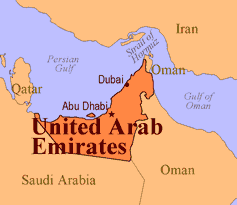 Information about the United Arab Emirates
Area: 77,700 sq.km of desert and mountains on the Arabian Gulf and the Gulf of Oman. Seven emirates: Abu Dhabi, Dubai, Sharjah, Ras al Khaimah, Ajman, Umm al Qaiwain and Fujairah.
| | | |
| --- | --- | --- |
| Population | Annual Growth | Density |
| 2000: 2,441,436 | +2.01% | 31 per sq. km. |
| 2010: 2,851,247 | +1.46% | 37 per sq. km. |
| 2025: 3,283,949 | +0.71% | 42 per sq. km. |
Capital: Abu Dhabi Population: 398,695; Other major city: Dubai 669,181.
Urbanites: 84%
All figures are estimates. The massive presence of expatriate workers, often illegal, makes accurate figures difficult to obtain.
Arabs:32%. Emirati 18%. Other Arab 14%. Egyptians, Jordanians, Palestinians, Yemenis.
South Asian: 59%. Indian, Pakistani, Bangladeshi, Sri Lankan.
Other: 9%. Filipino, European, East Asian.
Literacy: 79.2%. Official language: Arabic
Breathtaking advance from poverty to fabulous wealth in one generation. Massive development and diversification schemes funded by oil wealth have boosted tourism, trade and finance. Abu Dhabi has enormous oil reserves. Dubai's are much smaller. The other 5 emirates have little or no oil. Dubai is an important commercial, information technology and industrial centre. The UAE's great economic dilemma is it's complete dependence on cheap foreign labor. Income/person $18,290 (61% of USA).
The British-protected Trucial States became an independent confederation of monarchies in 1971. No political parties or elections are permitted. The Emir of Abu Dhabi is President of the Supreme Council which rules the country.
Islam is the religion of state, with a Sunni majority and a small Shi'a minority. There is freedom to worship and witness within the expatriate communities, but no outreach to the indigenous population is officially permitted. Limited non-Muslim religious expression is permitted. Religious figures are estimates.
| | | |
| --- | --- | --- |
| Religions | Population % | Adherents |
| Muslim | 65.45 | 1,597,920 |
| Hindu | 17.00 | 415,044 |
| Christian | 9.25 | 225,833 |
| Buddhist | 4 | 97,657 |
| Other | 3.80 | 92,000 |
| Baha'i | 0.50 | 12,207 |
| | | | |
| --- | --- | --- | --- |
| Christians | Denom. | Affiliation | ,000 |
| Protestant | 28 | 0.50 | 12 |
| Independent | 6 | 0.08 | 2 |
| Anglican | 1 | 0.36 | 9 |
| Catholic | 1 | 5.32 | 130 |
| Orthodox | 7 | 2.99 | 73> |
| | | | |
| --- | --- | --- | --- |
| Churches | Congregations | Members | Affiliates |
| Catholic | 7 | 90,909 | 130,000 |
| Orthodox groups (6) | 7 | 13,400 | 67,000 |
| Protestant groups (28) | 47 | 5,111 | 12,200 |
| Anglican | 9 | 2,613 | 8,700 |
| Armenian Apostolic | 2 | 3,593 | 6,000 |
| Independent groups (6) | 6 | 945 | 1,890 |
| Total Christians | 78 | 116,600 | 225,800 |